The owners have created a truly unique and surprising haven for familiey, couples, friends and business associates to relax and enjo. The awesome, well-kept grounds and foliage are a site to appreciate and make the OHLALA Paradise Resort Definitely one of the places to visite in Albay.

In addition for family leisure, the resort also serves as an excellent venue for meetings, conferences, weddings, birthdays, alumni, debots and parties. For those who want to stay overnight, a camping area and 20 air con rooms are available to choose from.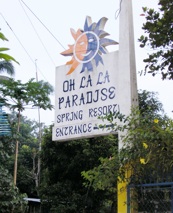 Amenities : FREE parking, 4 Swimming pools with 5 water sliders of fiber glass, Children swimming pool, children amusement, Two Pacific grass Tennis courts, Basketball court and the following sport facilities:
Tennis Court with Pacific Grass from Australia
Beach Volley
Badminton
Table Tennis
Billiards
Giant Chess from Switzerland
Video Ok
Entrances fees (still unchanged):
Day (7 am to 4 pm):
ENTRANCE daytime   :
Adults & kids:   Php  100  – FREE for kids under age of 3 y/o -
FREE  USE OF  4  NEW SLIDES
   (operate on:    Saturday & Sunday only !):
Before
:
Php 250  -  kids:  Php 200
OPTIONAL RIVER RAFTING SLIDE :
BLUE  Single raft:   Php   50 – Double raft: Php 100 (for a limited number of go or runs)
Night-rate ( 3 pm – 11 pm ) : min.15 persons
Php 200 – kids:  Php 100
Overnight ( 6 pm -  6 am ):  min. 15 persons
Php 250  – kids: Php 150
Food / Refreshments
We accept catering with special set menu at it's lowest rates.
You may also bring your own food, many barbecue pits are available for FREE use.
---